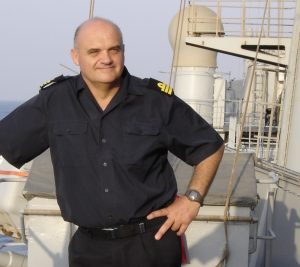 José María P. Marí He born in Ibiza in 1959. It's official General Corps of the Navy, specialty Naval Aviation Pilot (AVP) Staff and graduate from the School of Command and General Staff UK (JSCSC). He is the author of several articles on military operations in professional journals. As a child he heard tell the story of the battleship Deutschland lips of his father, witnessed the incident and marine old Yacht Club Ibiza.
One day, when he is walking between the shelves of the library JSCSC, he stumbled upon the collection of newspapers The Times of the time and revived in his mind the incident that had so often told. He has collaborated in the television History Channel series Pirates in the Balearic Islands.
He has written several books, among which are: BATTLESHIP Bombardment DEUTSCHLAND (Ibiza editions) O Pere Sala Medina, the last fight of a corsair (MIQUEL COSTA EDITOR)"To publicize the incident in the most rigorous and enjoyable as possible and, both, try to make the reader enjoy reading ". He is also co-author of Strategy, a way of thinking.
en 2023 publica "Ibizan corsairs in Gibraltar" (Ibiza editions)).
Ibiza editions
ILLES.CAT
Literary Platform online