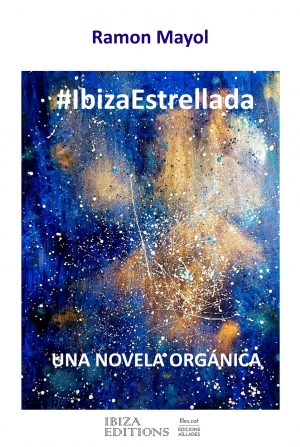 Ramon Mayol,,es,Palma,,en,It is cultural and passionate promoter of books,,es,Founder of the group of musicians from Ibiza and Formentera,,es,lizard Rock,,ca,with promoting contests,,es,festivals,,es,music awards and many other activities to promote music in the islands,,es,Member of Cor Ciutat d'Eivissa and the group of Rock in Catalan,,es,Stock Rock,,es,with whom he recorded an album,,es,Pussy de pic,,it,blue,,de,Discmedi,,ca,It is finalizing a solo project,,es,Mon,,en,with which it will release first CD,,es launches a collaborative mechanism, micromecenazgo, to publish his first novel: #IbizaEstrellada. A novel organic. With illustrations Victoria Arenal.
Through the link https://www.verkami.com/projects/21417-ibizaestrellada It is acede the project and thus dispenses with the traditional financial intermediation. You can advance the amount of the book, 20 euros, in exchange for receiving, as soon as it is published dedicated by the author.
El micromecenazgo the crowdfunding, It is a collaborative project financing mechanism that the author already launched in 2016, in that case as editor, with the first novel by Joan Buades, Crui. The torchbearers, once published, He was awarded the XLVI Award Crexells to the best work of fiction published in Catalan 2016
#IbizaEstrellada. A novel organic
It is a short novel, nail 80 pages, where the narrative voice is a star:
I'm a star and my name Ibiza. Sometimes, to make me rage, I tell me I'm nothing but a sphere of gas in equilibrium between gravity and pressure, more or less dense and more or less hot, but I prefer to be called Ibiza, that's my name or, if preferred, simply star.
The plot takes place in different locations: Madrid, Barcelona, Prague, Lanzarote ... also in Ibiza and tells the story, original and entertaining Fernando, Matilde, his first wife and current partner Luz. All, enveloped in an atmosphere which traps, where cats are also protagonists ... De background, Ibiza just, unavoidably, Starry.
The illustrations and the cover have been carried out by the Madrid artist Victoria Arenal who has already collaborated with Mayol in other publishing projects, as FRAGILE fig and three ..., de TONI ROCA.
The intention is to incorporate work in the Narrative collection Anacrèptica what Ibiza editions It has launched. The presentation of the novel is scheduled for December 2018.
Ibiza editions
ILLES.CAT
Literary Platform online.