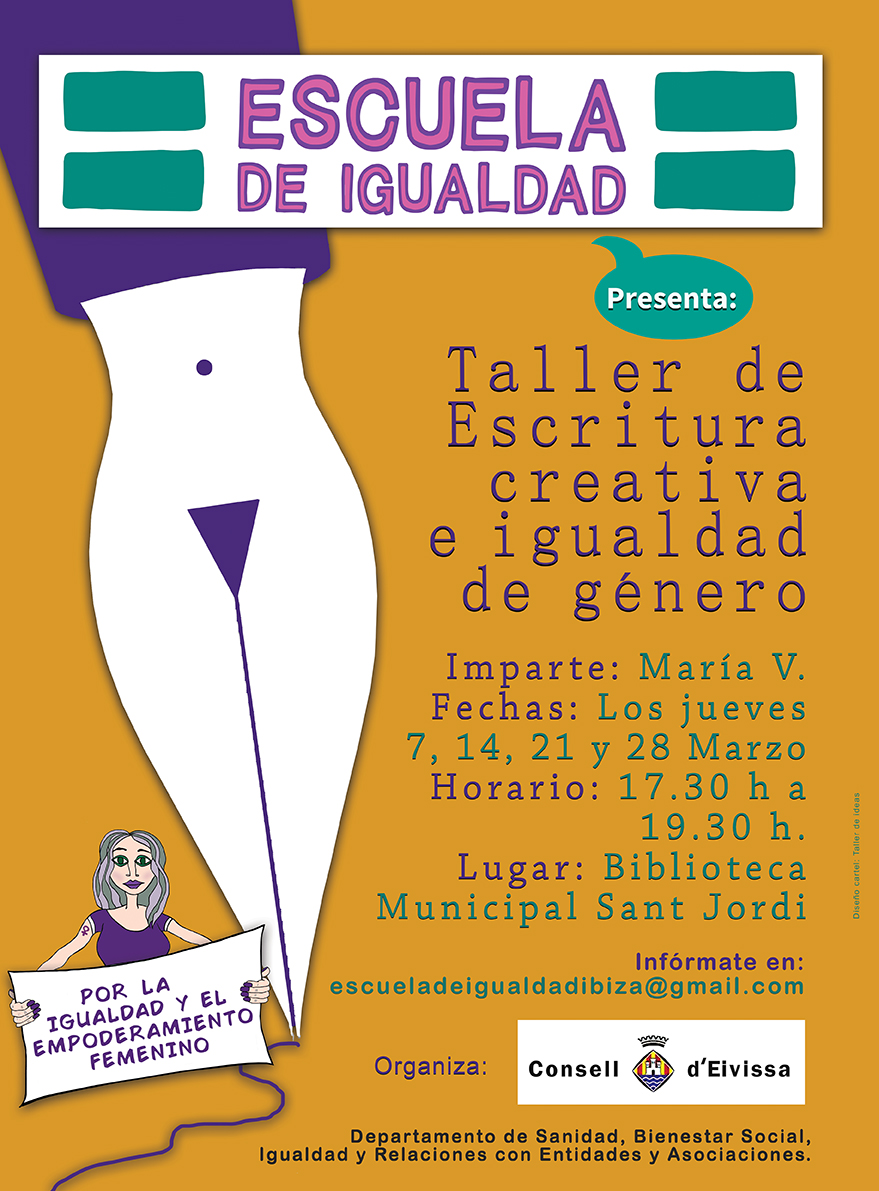 SCHOOL OF EQUALITY OF CONSELL ORGANIZED CREATIVE WRITING WORKSHOP
La Escuela de Igualdad del Consell d´Eivissa, directed by Judith Romero, this week presented the program of the courses that take place over the coming months. The aim of the initiative is to "create a space for reflection, training and information on equal, gender, and promote women's empowerment". It is important to clarify the term feminism. Many people believe that feminism is the same as machismo but on the opposite side. It is not like this, feminism seeks to defend human rights, por tanto, It protects both women and men.
El pasado año los talleres se celebraron con gran éxito. Todos los cursos completaron las plazas ofertadas, reuniendo en total a unas 200 personas. Para este año, of the 7 Al 28 de marzo tendrá lugar un primer taller sobre Escritura creativa e Igualdad en la Biblioteca Municipal de Sant Jordi. Hay un máximo de 12 plazas y desde el primer día de la convocatoria han llegado solicitudes para la inscripción.
Actividades de la ESCUELA de IGUALDAD

. March – April 2019
ESCRITURA CREATIVA E IGUALDAD DE GÉNERO




Jueves Marzo

:7,14, 21 y 28 17.30

h a 19.30h

4

sesiones Plazas

12


Biblioteca Municipal Sant Jordi Aula polivalente

AUTODEFENSA




Viernes Marzo

15, 22 y 29 April 5 19.00

h a 20.30h

* 4

sesiones Plazas

20 * 29

de marzo 18.30h a 21h




Puig d'en Valls Sala Centro Cultural Puig d'en Valls


of the 4 Al 13 de marzo

LA CIUDAD IGUALITARIA




Marzo Viernes

15 – 17

h a 21h Sábado

16 – 10

h a 14h

2

sesiones Plazas

18


Sant Josep Aula Escuela Vieja


of the 7

de marzo al

14

ILUSTRACIÓN FEMINISTA




Miércoles y viernes Marzo

25 y 27 April: 1, 3, 8 y 10 17

h a 19.30h

6

sesiones Plazas

15


Sant Antoni C

.

Cultural Cervantes Aula

7
of the 15 Al 21 de marzo

TÉCNICAS DE RELAJACIÓN




Martes y jueves Mayo

7, 9, 14 i 16 18

h a 20h

4

Sesiones Plazas

35
Eivissa:

Cas Serres sala

14
of the 24

de abril al

3 of May
Es importante esperar a la fecha de inscripción para enviar el correo solicitando la plaza.
Salud, paz y libertad.
Vila Maria Rebolo
ILLES.CAT
Literary Platform online