Poetico RECITAL IN ITS SALT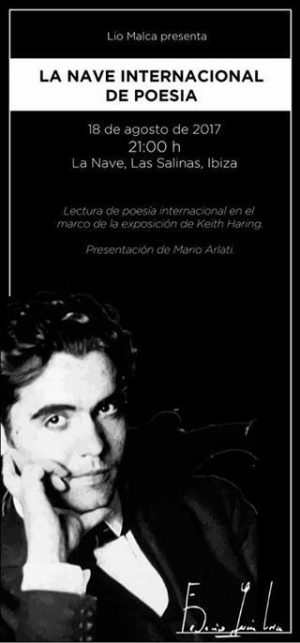 On Friday 18 of August, a las 21.00 horas en Ses Salines tiene lugar un recital poético con Antonio Colinas, Àngels Escandell, Ben Clark, CARLES FABREGAT, Julio Herranz y TONI ROCA. The painter and cultural manager Mario Arlati presents the act. El acto tiene lugar en la Nave Salinas y conmemora el 81 aniversario del asesinato del poeta Federico García Lorca.
En cinco idiomas diferentes los artistas nos invitan a un viaje literario a través de versos de García Lorca, Baudelaire, Leopardi, Quasimodo y los poetas de la generación Beat e incluso del último premio Nobel, Bob Dylan. Tras estos homenajes, los poetas leerán una selección de su propia obra.
El acto comenzará con la presentación de Mario Arlati, al que seguirá el homenaje a Federico García Lorca a cargo de Julio Herranz y a continuación, el resto de invitados.
La Nave Salinas
The Nave Salinas es un espacio de arte y cultura situado en Ses Salines d'Eivissa (Sant Josep de sa Talaia) del galerista y coleccionista de arte Lio Malca. Esta recital toma el relevo de los encuentros poéticos que, desde hace algunos años organiza Mario Arlati en el entorno natural de ses Salines para recordar al poeta granadino. This year, promovido por Lio Malca, el acto se enmarca además dentro la exposición del artista Keith Haring, abierta al público en la Nave Salinas Until the 30 of September.
Ibiza editions
ILLES.CAT
Literary Platform online