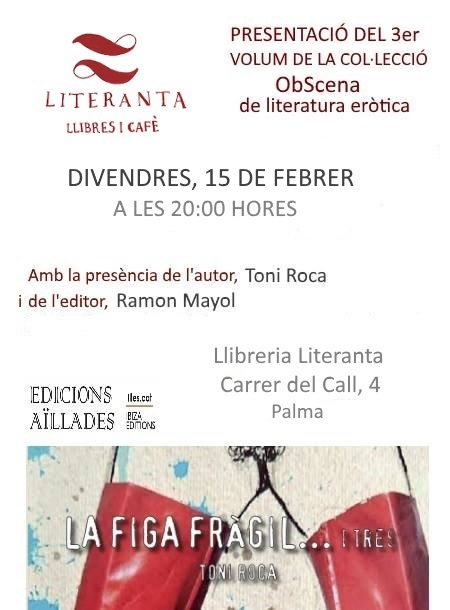 Fig fragile PALMA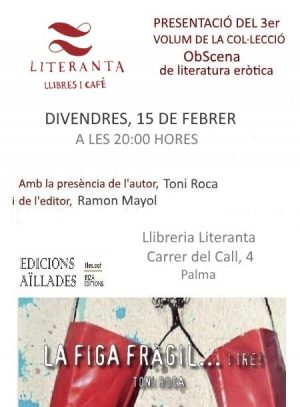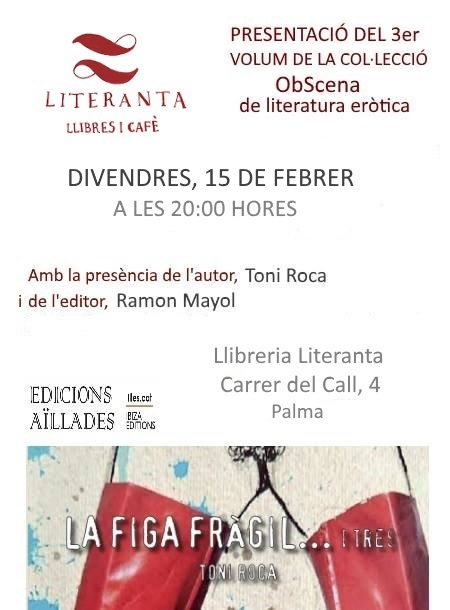 The next Friday, 15 February, a las 20:00 Palma hours is presented in the trilogy LA FIGA FRAGILE, TONI ROCA, Obscene collected in collection of erotic literature has launched Edicions Aïllades.
The event will take place in the library Literanta (Carrer del Call, 4) and will be attended by the author and publisher, Ramon Mayol,,es,Palma,,en,It is cultural and passionate promoter of books,,es,Founder of the group of musicians from Ibiza and Formentera,,es,lizard Rock,,ca,with promoting contests,,es,festivals,,es,music awards and many other activities to promote music in the islands,,es,Member of Cor Ciutat d'Eivissa and the group of Rock in Catalan,,es,Stock Rock,,es,with whom he recorded an album,,es,Pussy de pic,,it,blue,,de,Discmedi,,ca,It is finalizing a solo project,,es,Mon,,en,with which it will release first CD,,es.
During the presentation it will show a promotional short, recorded during the presentation of the latest installment of the trilogy, FRAGILE fig and three ...! in hotel Pacha Ibiza:
The "short", dirigido por Ramon Mayol, stars Carol Brest and Toni Roca. It also has: Teresa Dorador, Gisele Magalí, Ludy Torres and Deborah Massegu.
Link to info of "curtet" Fig FRAGILE Cortes
ILLES.CAT
Literary Platform online