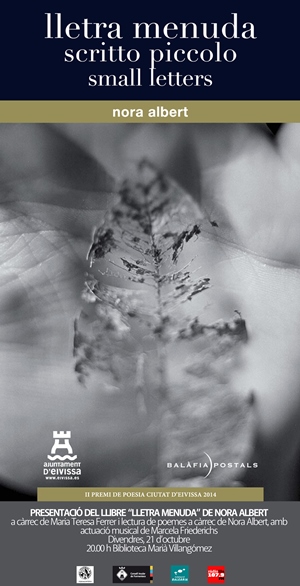 Small print in Formentera
Formentera welcomes the presentation of poems by Nora Albert small print / written small / small letters (Balàfia Postcards), Poetry Prize City of Ibiza 2014. The act, organizado por la OCB (Obra Cultural Balear), It takes place on Friday, 21 October 2016 in the Library Marià Villangòmez, a las 20.00 horas.
poeta, essayist, translator, member of EFTA (Association of Writers in Catalan)… Nora Albert, literary name of Helena Alvarado, He has chosen this time to express themselves through poetry, by feminism, Look for minority and a small place, Ibiza, where there is always, dice, "Exceedance time". from Punta Galera, where do you live, conferencias, readings, or literary translations encounters the lead from Italy to Formentera, Ibiza Britain, Mallorca, Barcelona…
'Small font size' is a collection of poems that "vindicates what is small, the importance of small things at all levels ", in the words of the author. Since it was installed on the island of Ibiza, over twenty years, Helena Alvarado is Nora Albert. With this pseudonym he won the Ciutat d'Eivissa prize 2014 poetry, con la obra small print, now it presented in Formentera.
Nora Albert video where he talks about his literary creation, from Punta Galera:
https://www.youtube.com/watch?v=jGuL6hoW83c
Literary Platform online