NEW EDITION OF ESCRIVIURE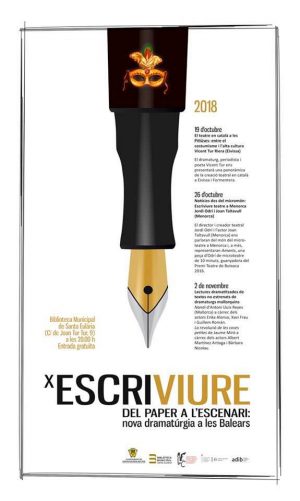 La Biblioteca municipal de Santa Eulària des Riu acoge una nueva edición del ciclo literario ESCRIVIURE, the number ten, during the days 19, 26 October 2 of November 2018 a las 20:00 horas.
Como cada otoño, vuelve el ciclo de literatura ESCRIVIURE que organizan el Ayuntamiento de Santa Eulalia and the Association of Writers in Catalan en la Biblioteca municipal de Santa Eulalia.
Una actividad cultural interesante y gratuita que está coordinada por la escritora Nora Albert, pseudónimo literario de Helena Alvarado y cuyas charlas se imparten in Catalan. El tema de esta edición es "Del paper a l'escenari. Nova dramaturgia a les Balears".
This year there tres sesiones programadas El Friday 19 October 2018 estará el dramaturgo, periodista y poeta Vicent Tur hablando del teatro en catalán en las Pitiusas.
El Friday 26 October 2018 es el turno, procedentes de Menorca, del director y autor teatral Jordi Odrí i del actor Joan Taltavull what, con el sugerente título de "Notícies del micromón" acompañará un pieza de microteatro de 10 minutos, ganadora del Premi Teatre de Butxaca 2016.
El 2 de noviembre se ha reservado para una lectura de textos no estrenados de dramaturgos mallorquines: Nandi, d'Antoni Lluís Reyes, a càrrec dels actors Erika Alonso, Xavi Frau i Guillem Roman i La revolució de les coses petites, de Jaume Miró, a càrrec del actors Albert Martínez Artiaga i Barbara Nicolau
Una estimulante actividad que tiene lugar en las fechas señaladas a las 20:00 horas. The entrada es gratuita.
Ibiza editions
ILLES.CAT
Literary Platform online