DVD Living Water! (vol. 2)
10,00€
Description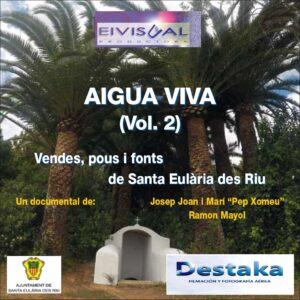 living water (vol. 2)
Vendes, pous i fonts de Santa Eulària des Riu
¡2ª EDICIÓN!
DVD
Second part of a project created by Josep Joan i Marí, "Pep Xomeu" and by Ramon Mayol,. After exploring wells and springs of Sant Carles de Peralta, adentran be in the sales of Santa Eulalia.
El propio Pep Xomeu pone la música, interpretada al piano per Elena Prokhorova. El audiovisual, de 55 minutos de duración está dirigido por Ramon Mayol, i se incluyen imágenes de las vendes de to Villa, with the Well Low, Well and the Old Moon Font den; Band Cala Llonga, which it has the Font des Ierns, Pou den Tur and Pou Can a Brand (o den Durban); sale December Trull den Vich, with the Font des Trull den Pou Vich and Can Trull; sale Novice December, which hosts the Pou den Cardona and the band d'Arabí, It is containing the Font de Perella and Font den Planetes.
Además, en el documental, Produced by Eivisual, se recogen opiniones, curiosidades o anécdotas muy valiosas de vecinos relacionados con este patrimonio hídrico de la isla de Ibiza como: Mariano de s'Argentera, Antoni des Campaner, Eulària de can Mayol, Carmen den Serra, Carlos Costa, Jaume den Negre, Pere de s'Argentera, Vicent Noguera Ramon, Toni Marí "Marge o Joan Clapés "Martí". All, conducido por Pep Xomeu.
Eivisual, 2018
DL In 2-2018
2ona edició
Octubre de 2019
facebook.com/DestaKaIbiza/
instagram.com/destaka_ibiza