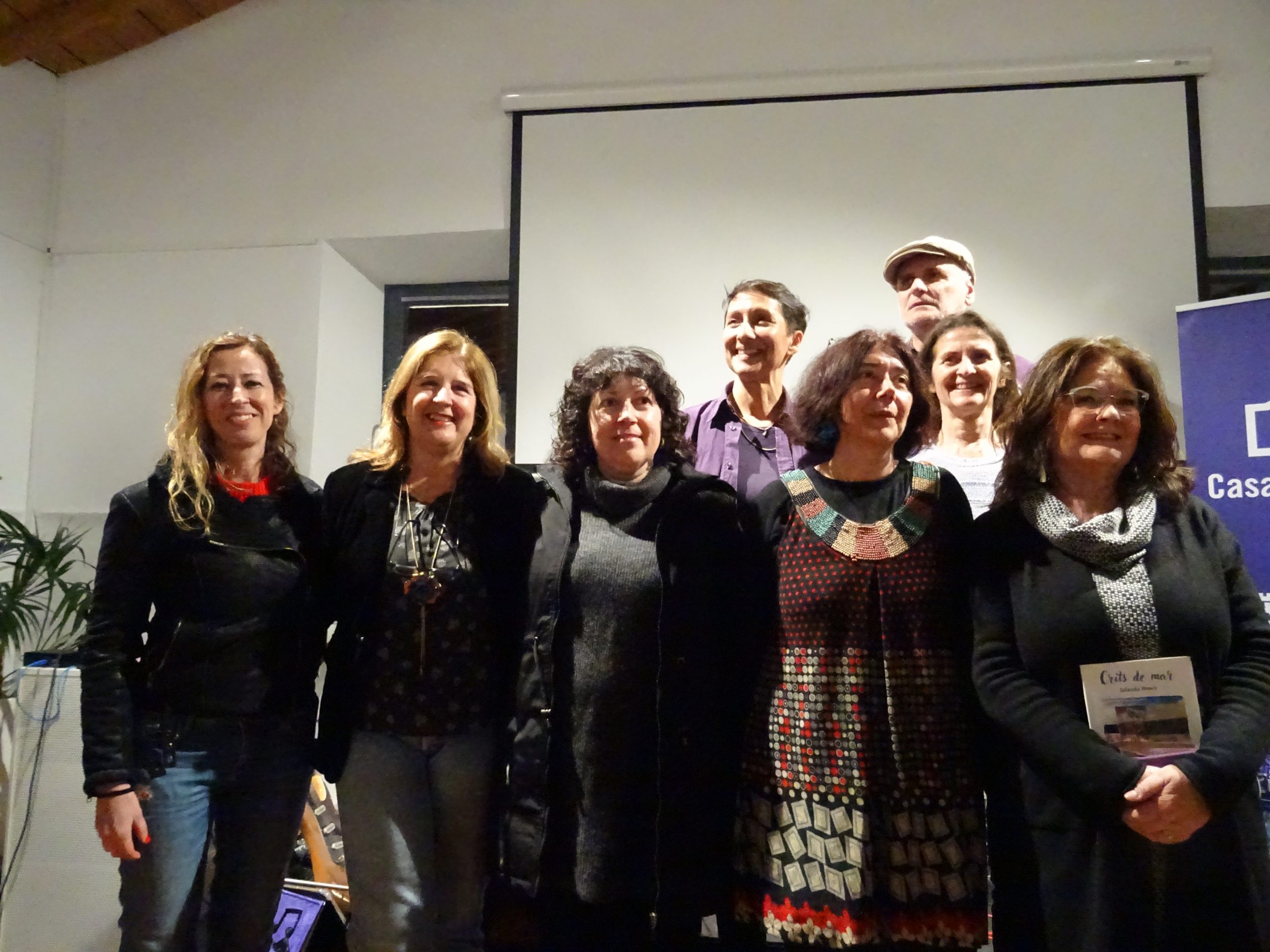 POEMilla ACTÚA EN EL CASAL D'IGUALTAT DE IBIZA
The POEMilla music project, dedicado a llevar poemas de autores ibicencos a las partituras, ofreció un concierto en el Casal d'Igualtat de Ibiza el 7 de marzo. The group formed by Mon&MarCel y Karen Lied interpretó un repertorio de temas seleccionados para celebrar el día de la mujer.
MarCel tomó la palabra antes de comenzar el recital para agradecer la presencia del público y recordar la conmemoración: «Esperemos que este matrimonio entre música y palabras haga magia», assured.
El evento tuvo un gran seguimiento por parte de las autoras cuyos textos formaron parte de la actuación, ya que asisitieron Teresa Navarro, Iolanda Bonet, Maria Teresa Ferrer, Neus Cardona y Eva Tur. La concejala del Ayuntamiento de Ibiza de Igualdad y Participación Ciudadana, Montserrat García, también estuvo presente en el concierto y tuvo una breve intervención al inicio del concierto.
Las canciones interpretadas fueron:
-'Tan lineal…', de Teresa Navarro, la coordinadora del libro recopilatorio de voces literarias femeninas de las Pitiusas, 'With woman's letter'.
-'I miss you', del poemario de Nora Albert, 'Words and embers'.
-'Dins la maleta', del volumen de Iolanda Bonet recientemente publicado 'Shouts sea'.
-'Eulària', del mismo conjunto de poemas.
-'Mar Mediterrània', de Neus Planells Molina.
-'Vull trobar-te', de Maria Teresa Ferrer.
-'Navegar-te', de Neus Cardona.
-'La ballarina', Beatriz Ceballos.
-'Mar endins', de Catalina Ferrer.
-'Passeig botànic', de Eva Tur.
-'La llum són les ombres', del poemario de Bartomeu Ribes, 'Priap on the island in white'.
El calendario de las próximas actuaciones del proyecto POEMilla es:
-9 de marzo en el auditorio Cervantes de Sant Antoni a las 20.00 horas.
-21 de marzo en la Escuela Oficial de Idiomas de Blanca Dona a las 18.00 horas.
-24 de marzo en la Biblioteca Marià Villangómez de Formentera a las 19.30 horas.
-27 de abril en la Biblioteca Marià Villangómez de Formentera a las 19.30 horas.
his unwavering faith in God and the numerous trips that brought him into contact with diverse cultures and to settle in Santa Eulària
ILLES.CAT
Online literary platform
Casal d'Igualtat de Ibiza
,
día de la mujer
,
Eva Tur
,
Iolanda Bonet
,
Karen Lied
,
Maria Teresa Ferrer
,
Mon&the festivities carried out by the Centers and the ITI General Secretariat will take on special importance
,
Music
,
Neus Cardona
,
the festivities carried out by the Centers and the ITI General Secretariat will take on special importance
,
Poetry
,
recital
,
ARRIVES WITH WOMAN'S LETTER