XLVI IBIZAN COURSE OF CULTURE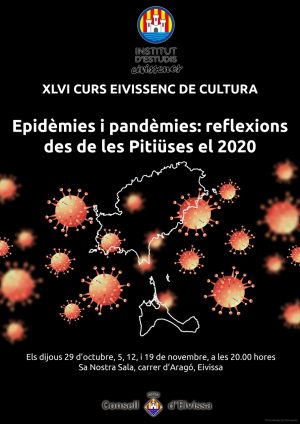 El XLVI IBIZAN COURSE OF CULTURE, the days are celebrated 29 October, 5, 12 i 19 of November, a les 20:00 h a Sa Nostra Sala (c / d'Aragó 17, Eivissa) and this year includes a series of conferences under the title: Epidemics and pandemics: reflections from the Pitiüses on 2020.
Casi todas las sociedades en el mundo han vivido, y viven, con mucha preocupación la incidencia de la pandemia conocida como Covidien-19. Las repercusiones son muchas: desde las que han tenido que ver con la salud universal y de las personas, las sociales para la llamada a adaptarse a las normas a preservar, las epidemiológicas, las que afectan a las políticas públicas en materia de salud e higiene, las relacionadas con las emociones. Sin olvidar las múltiples incidencias económicas, las implicaciones en el ocio y los eventos públicos, etc.
El Institut d'Estudis Eivissencs considera que una de las mejores contribuciones que puede hacer a la sociedad de Ibiza y Formentera es ofrecer un espacio de debate y reflexión sobre la Covidien-19 y el mundo de las epidemias y pandemias, centrado en las islas Pitiusas, y con la debida contextualización como fenómeno mundial.
both, el IEE quiere dar oportunidad a todos los sectores que más de cerca han visto, y todavía ven, los efectos de la Covidien-19, profesionales y voluntarios que han pasado por situaciones de riesgo, estrés, sufrimiento, saturación, etc. Personas que han recibido muchas muestras de reconocimiento, a las que se quiere sumar esta institución cultural, que a mismo tiempo los quiere poner al alcance una tribuna pública desde la que emitir su perspectiva, sus agravios, sus demandas y, above all, sus anhelos para poder afrontar mejor esta situación sanitaria y social y poner cara de la forma más robusta posible a situaciones análogas futuras.
Las sesiones del Curs Eivissenc de Cultura se llevarán a cabo de manera presencial, de acuerdo con la normativa vigente en su momento sobre aforo respecto de este tipo de actos, limitado a 30 people. Para reservar plazas: info@estudiseivissencs.cat) o WhatsApp (696 17 98 89
In the same way, serán retransmitidas en directo por Internet en directo a través del canal de Youtube de l'IEE
ILLES.CAT
Literary Platform online